Crane Spitters
2 Styles - Standing and Lowered Head
Starts at:
$311.98
Brand: Aquascape
SKU: 78314
Need accessories for this item?
View Accessories
Product Accessories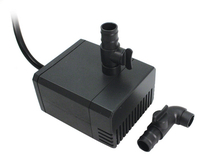 Aquascape poly-resin decorative water features combine beauty, detail and intricate design of more expensive traditional decorative pieces.
Decorative water features are often made from more expensive materials like brass, steel or copper.
Poly-resin is a sturdy material that can be intricately molded, allowing for an amazing amount of detail and consistent texture that easily fits into most budgets.
Pump not included. The Pondmeister recommends the 180 GPH Aquascape Statuary Fountain Pump #91025. See Accessories.
Available:
78008 - Standing Crane - 25" High
78009 - Crane w/ Lowered Head - 32" H
View the PDF for complete operating instructions.

Reviews
Standing Crane or Crane with Lowered Head in durable poly-resin decorative water features. Pond supplies from The Pond Outlet.
---