Pouring Three-Tier Bamboo Fountain
Starts at:
$66.38
Brand: Aquascape
SKU: 78307
Need accessories for this item?
View Accessories
Product Accessories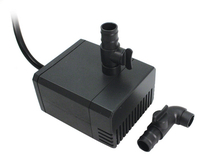 Ideal for use with the Aquascape Patio Pond. Three-Tier Fountain creates the gentle noise of falling water as water drops from one tier to the next.
Made from high-quality poly-resin, the fountain is lightweight, easy to install, and resistant to UV and heat exposure.
The Poly-Resin bamboo encapsulates the texture, shape, and finish of real bamboo. The fountain measures 5 inches long and 15 inches high.
Pump not included. The Pondmeister recommends the 90 GPH Aquascape Statuary Fountain Pump #91024. See Accessories.
View the PDF for complete operating instructions.

Reviews
Ideal for use with the Patio Pond. Includes pump and tubing. Made of sturdy poly resin. The Pond Outlet carries all Aquascape pond supplies.
---