UltraKlear UV Clarifier/Sterilizer
Free Shipping
Starts at:
$207.98
Shipping: Free
Brand: Aquascape
SKU: 95036
Need accessories for this item?
View Accessories
Product Accessories
In a pond, algae blooms, or "green water" can be a difficult issue to address safely and effectively. Not anymore!
The Aquascape UltraKlear UV Clarifier/Sterilizer uses a technologically advanced T5 high output UVC bulb, making it more efficient than traditional UV Clarifiers.
The Aquascape UltraKlear UV Clarifier/Sterilizer features a swirl sleeve that helps direct the water around the UV Bulb, creating more contact time and increasing UV efficiency unto 50% over traditional UV Clarifiers!

Features:
Effectively Clears unsightly green (pea soup) water algae blooms
Simple to use and easy to maintain
Features a swirl sleeve that optimizes UV efficiency
High Output UV Bulb maximizes performance
Easy to Remove bulb and quartz sleeve
Can be mounted vertically
3 Year Limited Warranty!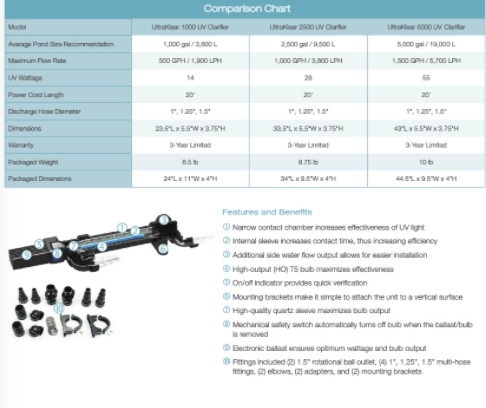 PondMeister Tip: For ponds larger than 5,000 gallons or ponds containing large fish loads, we recommend using a larger unit, or multiple UltraKlear UV Units. Multiple units can be easily plumbed in line with an UltraKlear UV Adapter Kit or the Aquascape Two-Way Valve.
Question:
The power indicator light does not come on. I do not think my new UV light is working
Aquascape Answer:
The best way to check is at night time when its dark outside. What is labeled an "indicator light" is not really a light, it's a port that shows the reflection of the bulbs glow and unfortunately is difficult to see on a sunny day.
Question:
I am trying to make sure fitting for aquasape uv5000 will adapt the uv unit to 2"hose... size seems correct but hope more info to be sure
Aquascape Answer:
If you use the 38mm to 1.5" FPT adapter that comes with the units, you can use a regular Spears 1.5" FPT x 2" slip fitting to connect the plumbing. I threaded on a spears fitting all the way on the metric adapter with no problems.
View the PDF for complete operating instructions.

Reviews
---