Automatic Dosing System by Aquascape
- Ponds and Pondless/Fountains - FREE SHIPPING!
Starts at:
$143.98
Shipping: Free
Brand: Aquascape
SKU: 96030
Need accessories for this item?
View Accessories
Product Accessories
Finally an Automated Solution for crystal clear Ponds, Pondless and Fountains!
The Automatic Dosing System for Ponds #96030 and the Automatic Dosing System for Fountains are identical. The only difference is the Water Treatment itself (The Maintain blend #96032 comes with the Dosing system for Ponds and the Prevent blend #96042 comes with the Dosing System for Fountains/Pondless)
Eliminate the guesswork and routine of adding water treatments to your pond, fountain, or water feature.
In order for water treatments to work correctly, or to maintain optimum water quality, water treatments should be added consistently and on a regular basis.
The Aquascape Automatic Dosing System accurately and consistently applies your choice of water treatment.
Helps maintain optimum water quality
Easy to use and fully programmable
Dependable and quiet operation
Can be used on almost any pond, fountain, or water feature
Doses Twice a day
Aquascape's New automatic water treatment dosing system makes adding beneficial bacteria and other water treatments to your koi pond happen automatically.
Simply insert the water treatment of your choice into the unit and select your size pond.
The dosing system will then pump the treatment into the water at regular intervals to keep your pond clean.
This system is very easy to operate and sets up in minutes.
It includes your first pouch (Maintain) of water free with purchase.
Sets up in just minutes, dig a small hole near your pond or just set near your water feature.
There are four different water treatment refill pouches to choose from. The dosing system comes with one free pouch of Maintain #1 water treatment to get you started.
Only uses one watt of power.
A power connector and transformer is included.
This can also be connected to your existing Aquascape two pin connection LED light system if you have upgraded your lights to that style of connection.
It's a small container that sits near your water feature and automatically pumps in the water treatment of your choice.
This will ensure optimal levels of the selected water treatment are maintained in your Koi pond.
Instructions:
Choose the appropriate water treatment based on what you want to accomplish
Attach the water treatment you have selected to the fitting included with the dosing system
Place the outlet/ discharge hose as close to the edge of the water feature as possible
Use the control panel to select the appropriate setting based on the amount of water contained within your water feature
The dosing system will automatically add your selected water treatment product to the pond or water feature every day helping maintain optimum water quality
Products:
Automatic Dosing System for Ponds #96030 - Comes with One Maintain Bag
Automatic Dosing System for Fountains #96031 - Comes with One Prevent Bag
Please order the Pond Water Treatment Refills at Dosing System - Pond Water Treatment Refills and the Fountain Water Treatment Refills at Dosing System - Fountain Water Treatment Refills
Water Treatment Products for the Automatic Dosing System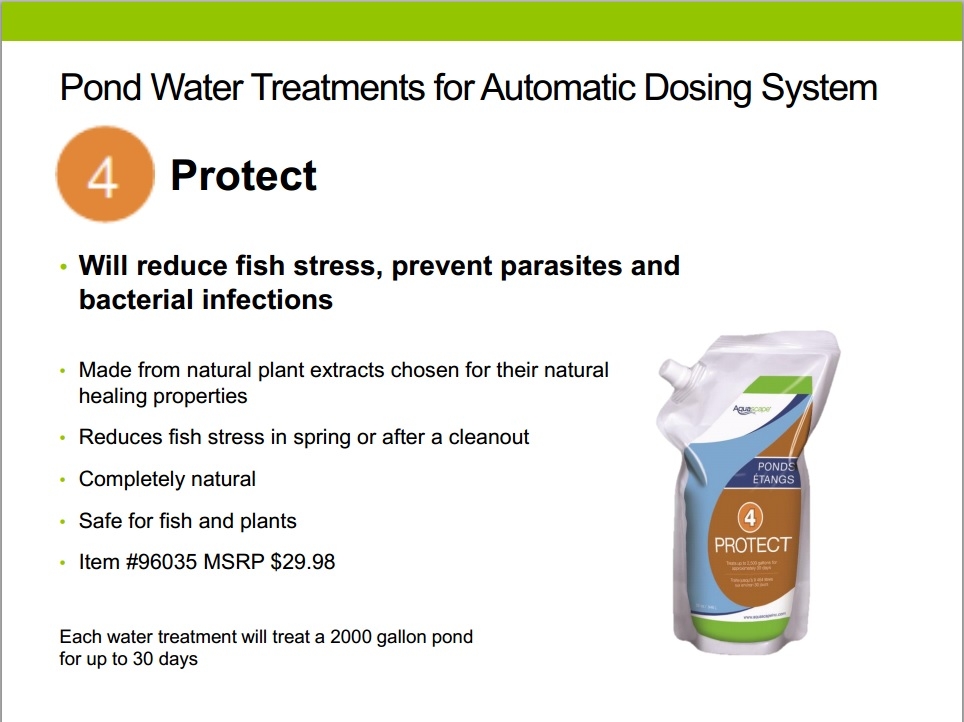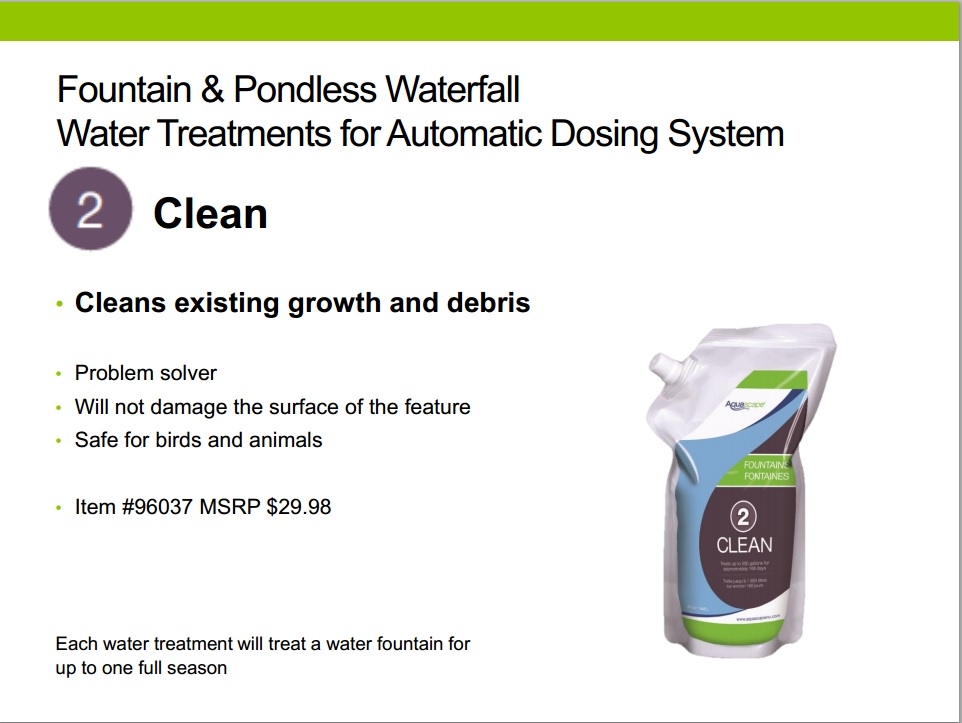 Question: What is the major difference between the Fountain and Pond Dosing Systems?
Aquascape Answer: There is no difference between the dosing unit themselves, the dose exactly the same on the same setting, the only difference is the water treatment included/used with the systems.
Question: Just bought the auto dosing system from you. There is nothing in the book that talks about the dosing light being on. What happens if the light remains on? Should I shut it off and just set it for the amount of gallons being treated? I'm a little worried as I was concerned that if the dosing light remains on then it is continually dispensing product.
Aquascape Answer:
I am assuming you are referring to the amber light not the power light. The amber light is lit when the X2 (double dose) button is engaged/turned on….kinda like a caps lock button……. So if you push the X2 button again it will turn off and only dose him twice a day, with the X2 button engaged he is getting four doses a day.
You would also know If it was continually dosing because you would hear that little whirring from the motor, like when you primed it.
Customer Question: Is there is a way to look at the control panel and tell an Auto-Priming one from an old manual priming one?
Aquascape Answer: Yes, there is a sticker underneath the panel that tells the consumer how to prime it. The previous versions did not have that sticker.
Customer Question:
What does it mean when the orange dosing light stays on?
Aquascape Answer:
When orange dosing light stays on, it means the small clear hose inside the top has come disconnected. When you put in priming mode it stays lit for about 10 minutes. If in 2x (double dosing) mode it stays lit until you press again to take off 2x mode.
PondMeister Note: Check Valves no longer included or needed as the Automatic Priming mechanism only goes in one direction
View the PDF for complete operating instructions.

Reviews
---