60-Watt 12 Volt Transformer with Photocell
Screw Connect and Quick-Connect Adapter
Starts at:
$91.98
Brand: Aquascape
SKU: 99070
Make lighting your water feature or landscape quick and easy with the Aquascape Garden and Pond Transformer with Photocell.
Aquascape low-voltage transformers provide an economical solution for operating halogen and LED lighting fixtures.
The transformers include a photocell that turns lights on at dusk, and the Garden and Pond 150-Watt Transformer allows you to set the lights to 4, 6, and 8 hour intervals.
Each transformer also includes a Quick-Connect fitting, making installation easier than ever.
99070: 60 Watt
Built-in on at dusk, off at dawn photocell
Includes Quick-Connect fitting for ease of install
1-Year Limited Warranty
01002: 150 Watt
Built-in photocell and 4, 6, and 8 hour interval selector
Includes Quick-Connect fitting and 25 feet of extension cable
1-Year Limited Warranty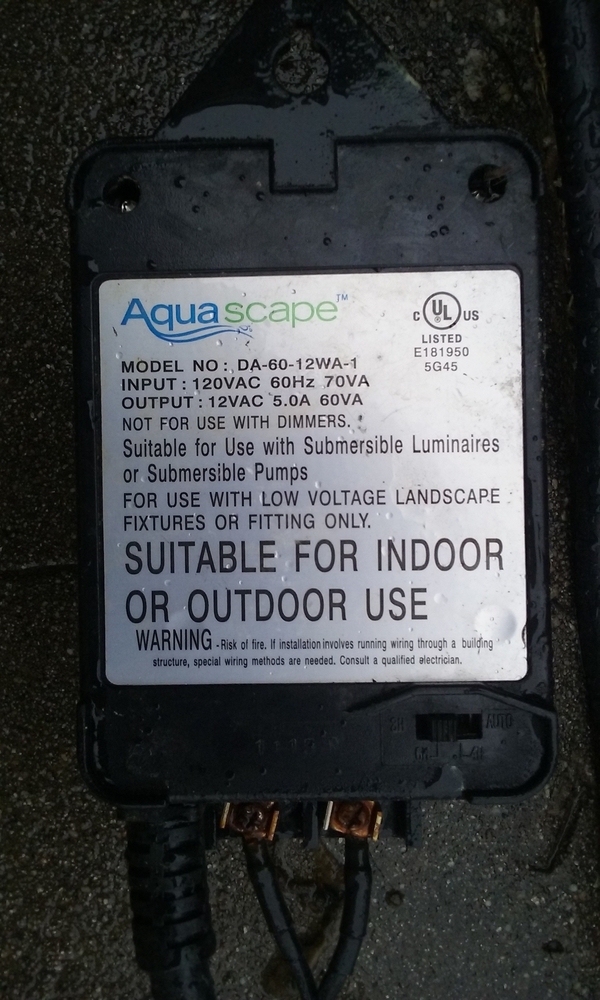 View the PDF for complete operating instructions.

Reviews
Provides the convenience of a built-in photocell that automatically turns the transformer on at dusk.
---