Color Changing Fountain Light Kits
Kits with 2, 3, 4 or 6 LED Lights - FREE SHIPPING
Starts at:
$1,052.99
Shipping: Free
Brand: Easy Pro
SKU: RGB2-100
Truly in a class of their own, these brilliant color changing LED lights are sure to make your fountain dazzle long after the sun goes down! The two light kit is designed for use on Aqua Fountains, Floating Fountain Head, and Kasco Fountains up to 3/4 hp.
Kit includes: Your choice of 2, 3, 4 or 6 light fixtures, mounting brackets, splitter cord, controller/timer, remote control, hardware and cord
Stainless steel 17 watt LED lights have both true warm white and color changing diodes
Stainless steel mounting brackets and hardware
Includes weather resistant controller with digital timer and remote control
Remote control works up to 1000′ away!
Waterproof quick connect plugs used on fixtures, splitters, cords and controller
Simple to assemble and install
Red, green, blue, warm white, lavender, cyan and yellow-green solid colors plus several pre-programmed sequences with additional colors
Designed to fit EasyPro Aqua Fountains, Floating Fountain Heads and Kasco VFX, JF and AF series fountains up to 3/4 hp
2, 3, 4 and 6 light kits available
3 year warranty on fixtures (1 year warranty on controller, remote and cords)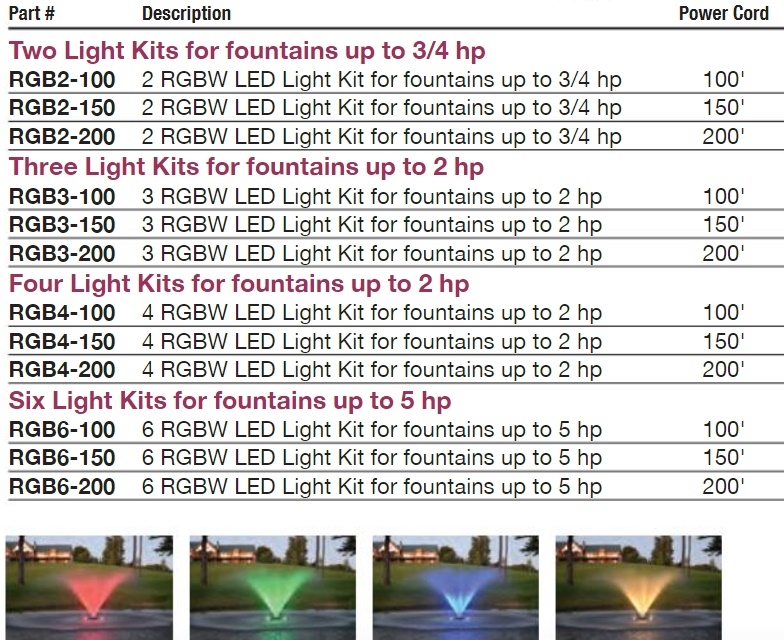 View the PDF for complete operating instructions.

Reviews
---