Aquascape EXT Pond Pumps - External Pond Pump
Starts at:
$2,799.99
Brand: Aquascape
SKU: 45049
Need accessories for this item?
View Accessories
Product Accessories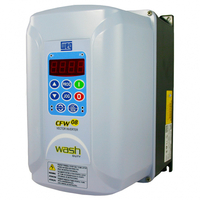 Aquascape EXT Pond Pumps are ideal for providing recirculating water in recreational ponds that require an external style of pump. The high flow rates of the EXT pumps make them perfect for supplying water to waterfalls, wetland filters and water jets. All EXT pumps have an oil-free design and a low RPM fan-cooled motor that provides quiet operation and a long life.
45049 - EXT12000 Pump
Oil-free, low RPM, motor provides quiet operation and a long life
Totally Enclosed Fan-Cooled Motor (TEFC)
Junction box located on pump motor allows 115V or 230V electric to be customized on site
3″ – 4 bolt flanged Inlet
2″ – 4 bolt flanged discharge
Semi-closed vane impeller provides efficient water flow and can pass spherical solids up to .75″ in diameter
The EXT 12000 comes standard with a 10-foot, 115V power cord. If special electrical requirements are needed the junction box on the pump motor allows for 115V or 230V electric to be customized on site to meet each project's electrical requirements
45051 - EXT12000 3P Pump - 3 Phase Motor
Oil-free, low RPM, motor provides quiet operation and a long life
Totally Enclosed Fan-Cooled Motor (TEFC)
Junction box located on pump motor allows 115V or 230V electric to be customized on site
3″ – 4 bolt flanged Inlet
2″ – 4 bolt flanged discharge
Semi-closed vane impeller provides efficient water flow and can pass spherical solids up to .75″ in diameter
No cord included
45050 - EXT18000
Oil-free, low RPM, motor provides quiet operation and a long life
Totally Enclosed Fan-Cooled Motor (TEFC)
Junction box located on pump motor allows 115V or 230V electric to be customized on site
3″ – 4 bolt flanged Inlet
2″ – 4 bolt flanged discharge
Semi-closed vane impeller provides efficient water flow and can pass spherical solids up to .75″ in diameter
45052 - EXT18000 3P - 3 Phase Motor
Oil-free, low RPM, motor provides quiet operation and a long life
Totally Enclosed Fan-Cooled Motor (TEFC)
Junction box located on pump motor allows 115V or 230V electric to be customized on site
3″ – 4 bolt flanged Inlet
2″ – 4 bolt flanged discharge
Semi-closed vane impeller provides efficient water flow and can pass spherical solids up to .75″ in diameter
Reviews
---