DIY Backyard Waterfall Kit
Starts at:
$1,039.98
Brand: Aquascape
SKU: 83001
Need accessories for this item?
View Accessories
Product Accessories

Aquascape Waterfall Kit - A Pondless® Waterfall is simply a waterfall without the pond.
The perfect DIY solution for small spaces includes enough liner to create a small 3' long waterfalls .
Kit Includes:
Waterfall Spillway #77000 - This is the starting point of your waterfall
Pondless® Waterfall Vault #49000 - Provides access to your pump and allows you to check the water level in the system
Two Small AquaBlox #29491 26.5" X 16" X 9.5" - provides water storage for reservoir
25 feet of 1˝" quality Kink-Free Hose
10' x 12' Pond Liner made from quality EPDM 45 mil fish safe rubber - 20-year guarantee!
105 sq. ft. of Geotextile Underlayment - protects liner from sharp objects
Complete installation instructions and owner's manual
How the Pondless Waterfall Works:

The water held within the open spaces of the gravel flows down toward the Pondless Waterfall Vault. From there, it gets pumped up to the Waterfalls Spillway, where it flows by gravity back down through the gravel bed and Pondless Waterfall Vaultand the cycle begins again.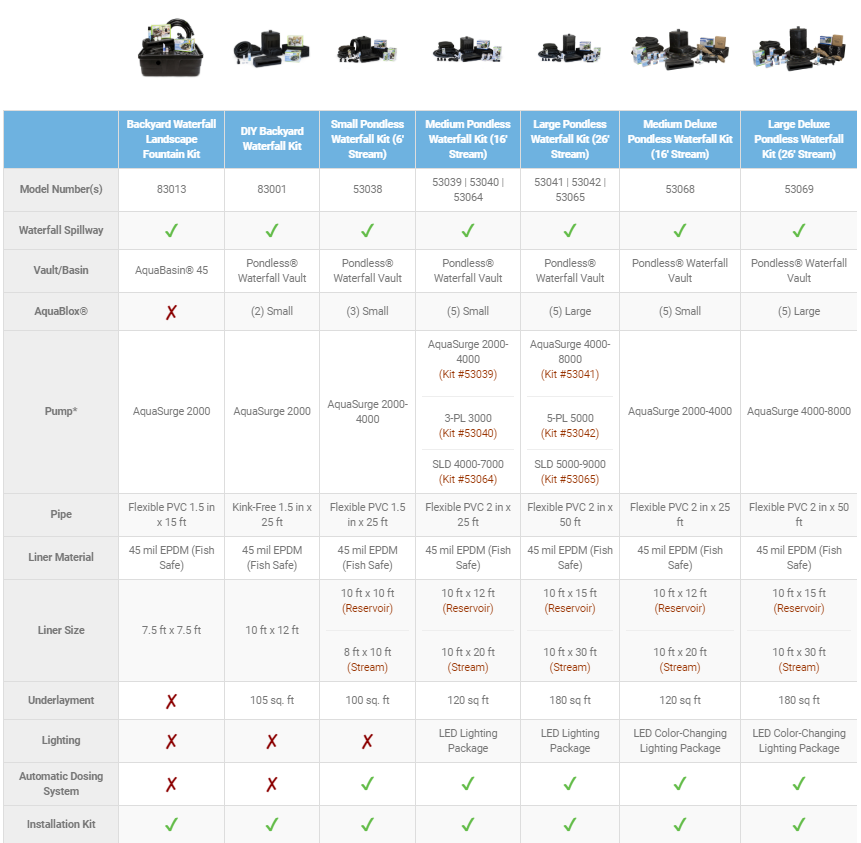 Question:
How do you calculate the required water amount required for a stream (going for pondless) so that when it is off there is enough water to start and flow without completely draining basin?
Answer:
Take the Length X width of stream X depth X 7.48 to get the number of gallons in stream and then double that volume for the basin volume. Then take basin volume and divide it by 16 (small Aquabloxs ) or 32 (Large Aquabloxs)
20' stream 2' wide would be the following:
20x2=40 X.25 (depth)= 10 X 7.48 (Number of gallons in cubic foot)= 75 gallons. You want basin to have twice as much so that it can be turned off and have plenty to restart without overflowing.
So that would be 150 gallons for basin. That would be 9 small blocks or 4-5 large blocks
View the PDF for complete operating instructions.

Reviews
This Aquascape Waterfall kit is child-friendly, fits in the smallest of places and requires virtually no maintenance.
---