Signature Series Skimmers 200, 400, 1000
Starts at:
$343.98
Brand: Aquascape
SKU: 43020
Need accessories for this item?
View Accessories
Product Accessories
Aquascape Signature Series Pond Skimmers provide efficient mechanical filtration by removing unwanted debris from the surface of the pond, significantly reducing maintenance and improving water quality. The filter also provides a protected location for the pump, extending pump life.

The filter includes a large-volume, rigid debris basket for quick and easy maintenance and a high-quality, medium-density rigid filter mat to remove smaller sediment and debris.

The extremely durable, UV-protected, high-density polyethylene construction and the rounded shape maximize the strength of the filter, enabling installation in freeze-thaw conditions.

The innovative locking weir door allows it to be temporarily closed and locked to drain the water in the skimmer for maintenance.

An included natural-looking faux rock lid helps to effectively conceal the filter while protecting the pump and internal components.

Two bulkhead ports with injection-molded fittings allow the check valve to thread directly into the skimmer wall, providing a professional watertight seal along the back of the filter.

Corrosion-resistant, non-cross-threading hardware stands up to the elements and the included overflow allows excess water to be properly redirected. The Signature Series Pond Skimmer is backed by a limited lifetime warranty, ensuring year after year of trouble-free use.

Choose the right size for your pond:
43020: Signature Series 200
Ideal for ponds up to 200 square feet and pumps up to 3,000 GPH
An optional filter brush cartridge (#99772) can be added to provide additional filtration and an optional overflow kit is also available (#88036)
43021: Signature Series 400
Ideal for ponds up to 400 square feet and pumps up to 4000 GPH
Footprint at base of unit is approximately 15" x 11.5"
Dimensions 21.5" L x 18" W x 21" H
43022: Signature Series 1000
Ideal for ponds up to 1000 square feet and pumps up to 10.000 GPH
Approximate dimensions: 21" L x 22" W x 26.5" H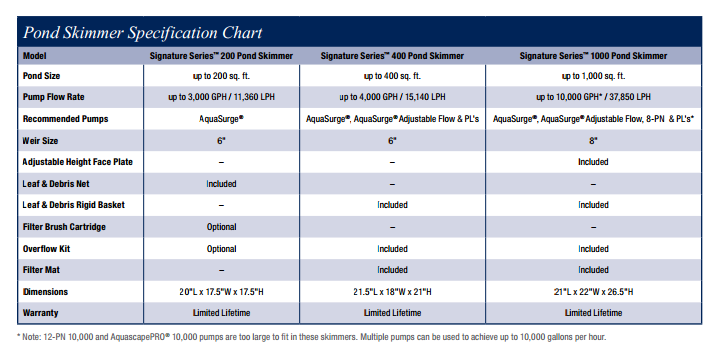 Customer Question:
My Pre-2007 MicroSkimmer is leaking around the Faceplate. How can I fix it?
Aquascape Tech Answer:
It looks like they could replace the screws with stainless steel screws, washers & nuts. They would want to clean the face of the skimmer & replace the silicone (fish safe/aquarium grade silicone). If they were to go this route they would need to remove the grommets out of the skimmer.
Or they could replace with part #30078 13-screws & #29932 13- grommets. They would obviously still need to clean the face of the skimmer & reapply the fish safe silicone.
Instructions for the 200 Skimmer
Instructions for the 400 Skimmer
View the PDF for complete operating instructions.

Reviews
---