Dragonfly Spitter by Aquascape
Starts at:
$239.98
Brand: Aquascape
SKU: 78303
Need accessories for this item?
View Accessories
Product Accessories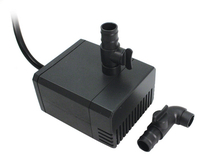 12" L x 11"W x 25"H
12 pounds
Made from high quality poly-resin, this sturdy material is light weight, UV and heat resistant.
Poly-resin is also ideal for taking on the texture, shape, and finish of real brass and stone at a fraction of the cost and maintenance of natural materials.
Pump not included. The Pondmeister recommends the 180 GPH Aquascape Statuary Fountain Pump #91025. See Accessories.
View the PDF for complete operating instructions.

Reviews
---