Screened Filter Baskets by Filtrific
Starts at:
$364.29
Brand: Filtrific
SKU: E20-40
Need accessories for this item?
View Accessories
Product Accessories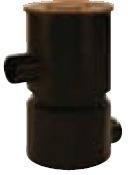 • Provides essential pre-filtration for the pump
• Each basket has 1.7 square feet of surface area
• Easily cleaned to maintain efficiency
Surgical-grade stainless steel
Filter Baskets separate debris from the water carried in through the skimmer.
Interchangeable screen sizes provide customized filtering, to assure trouble free operation of pumps and related equipment.
Finer mesh screens require more frequent cleaning than large mesh screens and are generally used with smaller pumping flows.
Larger mesh screens are typically used with large flow installations.
Four Filter Screen Sizes Available:
Screened Filter Baskets


Part#


Description

Compatible
Filters

Screens
Required
Surface
Area (Ft)


Microns
E6-60
Extra Coarse Mesh
RH15 & T40F
1
1.7
3100
E10-40
Coarse Mesh
RH15 & T40F
1
1.7
1600
E20-40
Medium Mesh
RH15 & T40F
1
1.7
686
E6-75
Extra Coarse Mesh
T75F
2
1.7
3100
E10-75
Coarse Mesh
T75F
2
1.7
1600
E20-75
Medium Mesh
T75F
2
1.7
686
E6-390
Extra Coarse Mesh
T390F
2
3100
E10-390
Coarse Mesh
T390F
2
1600
E20-390
Medium Mesh
T390F
2
686
Medium - 20 Mesh Coarse - 10 Mesh
E6-40 E6-75 E6-390
E10-40 E10-75 E10-390
E20-40 E20-75 E20-390
Filter basket & remote skimmer sold separately
Easy-to-Remove Filters

Filtrific® Filter Tanks utilize a two piece lid, which makes the filters easily accessible; simply open the filter access cap and lift out the basket.

Quick-Cleaning

Clean filters are essential in maintaining an efficient water feature. Routine maintenance is accomplished by occasionally emptying the Filter Baskets. If a large amount of debris has collected in the Filter Basket, simply remove the filter element and the compacted debris will fall out.
Reviews
---